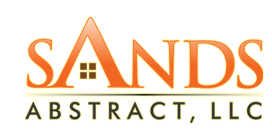 Sands Abstract, LLC
70 E. Sunrise Highway Suite 606
Valley Stream, NY 11581
516-821-3420

SANDS ABSTRACT, LLC is a New York based title agency, located in the heart of Long Island, servicing all 62 counties of New York State. We opened our doors in response to the needs of real estate professionals who were seeking a higher level of expertise, a keener sensitivity to customer service, and the highest standards of ethical practice.
SANDS ABSTRACT, LLC offers our clients, whether they be attorneys, brokers, lenders, home buyers or commercial real estate developers a full array of professional title service, expert lien clearance assistance, timely document recordation and the outstanding customer service they deserve.
SANDS ABSTRACT, LLC offers an expert legal team and highly experienced staff who are committed to ensuring the success of every title order and the exemplary completion of each transaction which comes across our desk. Our principals' long history in real estate and strong relationships with the nation's leading banks and lending institutions allows SANDS Abstract the ability to deliver clear title in a timely fashion and with the highest degree of accuracy and precision.
SANDS ABSTRACT, LLC clears title so that our clients can clear calendars to close loans! Since SANDS Abstract has opened its doors, we have successfully closed thousands of refinance and purchase transactions, both on residential and commercial properties ranging in value from $20,000.00 to $20,000,000.00. SANDS Abstract believes that all property, no matter how big or small, must be properly insured.
SANDS ABSTRACT, LLC invites you to contact us today to discuss your title and settlement needs. Our friendly and helpful staff is available to answer your questions, order your searches, clear your liens, and record your documents. Our useful databank of legal documents and mortgage calculators can be utilized as helpful tools for your real estate transactions and title insurance needs. SANDS Abstract understands that your needs are our concern and your business is our priority. We look forward to working with you.
Our Underwriters
Old Republic National Title Insurance Company
First American Title Company of New York, Inc.
Fidelity National Title Insurance Company
Commonwealth Land Title Insurance Company
Chicago Title Insurance Company
News Feed